English Page
[Repeat rate, threat 91.3%! ]
(Results from November 2019 to April 2022)
It is a shop where you can enjoy entertainment shows of "magic" and "hypnosis" from a very close distance. The location is Osaka's Minami, and each line <Shinsaibashi> <Namba> <Nippombashi> is the nearest station. It is a 3-minute walk from Don Quixote with its Ferris wheel.Opening time 7:00PM.Closing time 12:00PM.Regular holiday is Sunday.
Prices are simple! 70 minutes full charter system!
Charge 3500 yen + drink 800 yen ~
+ consumption tax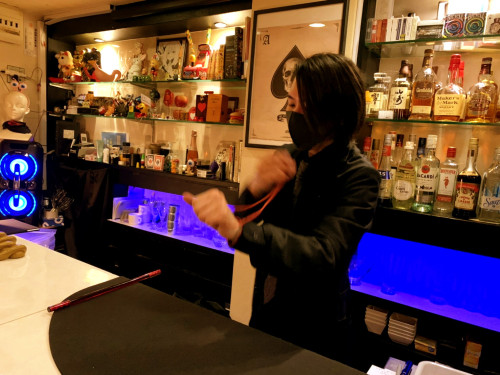 The start time of the show is at any time after you come to the store.
During the 70 minutes, you can enjoy a magic show of about 50 to 60 minutes.
Since there are only 8 seats at the counter, we recommend that you make a reservation or contact us before visiting.
For reservations up to the day before,
Open 24 hours, reply within 24 hours.
Call us for same-day reservations! 0662827797
Reception during business hours from 19:00.
*If you would like hypnosis, please let us know at the time of booking. In addition, there are individual differences in the results of hypnosis.
*Hypnosis is available only in Japanese. The magic show is available in Japanese and English.
*Reservations are accepted from 2 people.
*If you do not show up within 15 minutes after your reservation time, your reservation may be cancelled.